A very warm welcome to Auckland from Healthstaff Recruitment
Auckland is located in the northern central region of the North Island of New Zealand. The city lies across an 11km (8 mile) wide volcanic isthmus separating two harbours.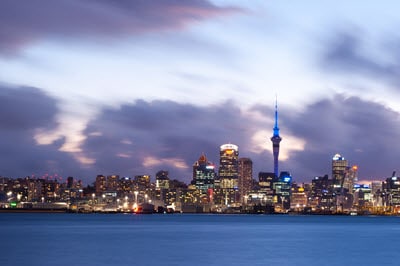 The Waitemata Harbour to the east opens to the Hauraki Gulf, and to the Pacific Ocean. The Manukau Harbour to the west offers many estuaries and surf beaches and opens to the Tasman Sea. The nearest city to the south of Auckland is Hamilton, and to the north Whangarei.
Auckland is a place to enjoy urban culture, with food and fashion to captivate your senses. It's a marine environment with idyllic islands that invite you to kick back and relax. It's also a geographical wonder, with 48 volcanic cones and two ancient rain forested mountain ranges. There's huge scope for fun in every direction.
Attractions
Auckland has many unique attractions that deliver maximum satisfaction in a short amount of time. Some are active, others are passive, but all of them are totally entertaining. Put time aside to do the things that can only be done in Auckland.
Start your Auckland experience at the top of the Sky Tower. At 328 metres, it's one of the tallest buildings in the southern hemisphere. Apart from a stunning view, the Sky Tower now offers you 'Sky Jump', the world's highest tower-based jump. It's a leap beyond description.
The Auckland Harbour Bridge is another icon that can show you an exciting time. Bridge climbing is one of the latest things to do and it doesn't require a high level of fitness or daring. You'll be carefully guided along the spans before proceeding to the highest point for a knockout view of the city and harbour.
For different view of southern hemisphere life, make a point of visiting Antarctica while you're in Auckland. At Kelly Tarlton's Antarctic Encounter and Underwater World you can meet King and Gentoo Penguins in a world of real snow and ice. You'll also walk through enormous perspex tubes while sharks, fish and stingrays of every description swim around you. Auckland Zoo's Sea lion and Penguin Shores gives you a similar close encounter, except this time it's sea lions whistling past your nose. The Auckland War Memorial Museum has the world's finest collection of Maori treasures. A cultural performance is held three times a day, introducing you to the legends, song and dance of the Maori people. Feed your mind in the highly informative Natural History Galleries – Origins, Land, Oceans and Human Impact.
You'll need a comfortable pair of walking shoes to conquer the summit of Rangitoto Island. When you get to the top, there's a stunning 360 degree view over the Hauraki Gulf and Auckland cityscape. For most people, the hiking track from Rangitoto Wharf is the route of choice, but there is an easier way… you can get most of the way to the top on a 4WD Safari called the Fullers' Volcanic Explorer.
As the 'City of Sails', Auckland almost demands you get out on the harbour. Yachts and launches are available for charter, or you can team up with a local cruise company and watch someone else do all the hard work. The water that separates the bigger islands is home to pods of dolphins, families of blue penguins and the occasional sub-pod of orca.
Wine tasting on Waiheke, with an art trail on the side, is an experience that constantly gets high marks from visitors to Auckland. The famed wine estates welcome guests. Many offer tastings and some have restaurants that you'll never want to leave. While you're travelling around the island, you'll notice signs that invite you to visit artists' studios. Waiheke is home to a thriving creative population – potters, painters, writers and sculptors.
High in the Waitakere Ranges, you can discover the ultimate wild ride. Canyoning is a blast! You'll abseil under waterfalls, water slide into hidden pools and float through mysterious water sculptured gorges.
A different kind of adrenalin-packed day begins with the grunty 4-wheel drive farm bikes of 4-Track Adventures. After a little training, you'll be let loose for an exciting episode of puddle punching, pine tree dodging and surf chasing on fabulous Muriwai beach.
Auckland's leisure-driven lifestyle has been voted amongst the best in the world. With 23 regional parks, 2 marine reserves, 100km of coastline, more than 500km of walking tracks and 48 volcanic cones, Auckland is a fascinating recreational landscape.
Some of the best things in Auckland are free. The Auckland Domain, which is within walking distance of the CBD, is a natural masterpiece with many special places. Walking trails will take you to historic statues and beautiful conservatories. North Head, next to Devonport village, offers free exploration of an underground tunnel network that was built for military purposes during WWII. Highlights include an original disappearing gun. You can hug a giant kauri tree on any day of the week in the rainforest of the Waitakere Ranges. Discover the displays at the Arataki Visitor Centre and enjoy a free film about Auckland's forest life.
Activities
Bigfoot Adventures
Experience the outdoors at Auckland's doorstep with Bigfoot Adventures. Ride mountain bikes through lush forests, kayak around stunning coastal scenery, abseil beside a waterfall or discover the strange beauty of underground caverns. Experience the outdoors at your doorstep with Bigfoot Adventures.
Postal Address: PO Box 13624, Onehunga, Auckland
Freecall (within NZ only): 0800 244 3668
Phone: 64 9 579 8773
Fax: 64 9 579 8773
Send Email to [email protected] or
Visit Bigfoot Adventures
Canyonz
Canyoning! Abseil, swim, slide and jump into Auckland's best adventure!
Explore the Blue Canyon, a mysterious subtropical playground of sparkling waterfalls and deep blue pools. Abseil waterfalls, shoot down polished rock chutes, jump into wicked pools! The biggest adventure: the amazing 300-metre-high Sleeping God Canyon! Transport, gear and lunch included.
Physical Address: 81 Grange Rd, Mt Eden, Auckland
Postal Address: PO Box 68057, Newton, Auckland
Free call: 0800 4 CANYONZ (0800 422 696) (within NZ only)
Phone: 64 9 636 8914
Fax: 64 9 630 2779
Send Email to [email protected] or
Visit Canyonz
Events
Visit Auckland Council to discover what's happening in Auckland during your stay.