A very warm welcome to Christchurch from Healthstaff Recruitment
Located on the East Coast of the South Island, Christchurch, just like the rest of New Zealand, is a city of contrasts. Christchurch has a population of approximately 320,000.
It is a place where its residents continue to enjoy a healthy, active lifestyle amidst a natural environment world-renowned for its beauty. A growing cosmopolitan ambience also adds a touch of excitement without overt flashiness.
Everywhere there is an understated elegance that speaks of times gone by and promises a future where anything is possible. It really is the 'city that shines'.
Each day you spend in Christchurch there's something fresh for you to experience. Around every corner there are new surprises. You can choose to relax in a punt on the Avon River and drift through the city, or plunge towards the ground attached to only a bungee cord. Each day provides a new and different adventure when you visit.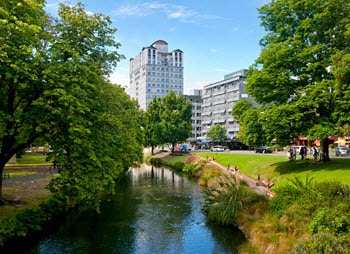 Attractions
Internationally famed as 'The Garden City', Christchurch's well-established expansive parks and public gardens owe much to the planning and foresight of the city's founding fathers.
The centrally-located 161 hectare Hagley Park, the Botanic Gardens, the four leafy inner-city avenues, Victoria Square and spectacular gardens such as Mona Vale on the banks of the River Avon, bear testimony to this legacy. It is a vision which is embraced and perpetuated today by proud residents right throughout the city.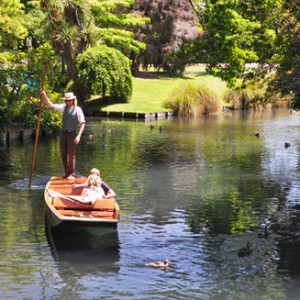 The Garden City Festival of Flowers held in February each year is certainly one of the most popular festivals on the annual calendar; a time when the city is a blaze of colour.
In 1996, Christchurch was acknowledged as the outstanding garden city from 620 international entries and in 1997 was judged overall winner of Major Cities in the Nations in Bloom International Competition to become 'Garden City of the World'!
Christchurch and Canterbury are famous for natural beauty and a wealth of things to do. Christchurch has a lively entertainment scene, strong cultural heritage, gorgeous parks and gardens, lots of sports facilities and good shopping. Among the 'must sees' are the weekend Arts Centre market, Christchurch Cathedral, Botanic Gardens and International Antarctic Centre.
The Robert McDougall Art Gallery and Annex exhibit New Zealand and international art and Canterbury Museum has fine cultural and natural collections as well as creative and imaginative displays. Orana Park is New Zealand's largest wildlife reserve and Willowbank Wildlife Reserve has among its displays New Zealand's largest daytime Kiwi viewing area. Air Force World captures the adventure and history of flight in New Zealand and Christchurch Casino offers 24-hour gaming entertainment. Visitors can be introduced to Maori culture at Nga Hau E Wha Marae.
Activities
There is something different to see and do within one or two hours' drive of Christchurch, in any direction.
To the east lie the open ocean and Banks Peninsula, featuring sheltered bays, sandy beaches, and bush clad valleys, rocky coastline and high, wild places. Boating, tramping, a visit to the wineries and the French settlers' harbour side village of Akaroa are key peninsula attractions.
To the west, past fertile plains and braided rivers, are forested foothills and lakes. Beyond them lie the tallest mountains in Australasia, the Southern Alps, strung out parallel to the coastline. Mountain passes with delightful alpine villages break the almost impenetrable divide and deliver the traveller to the west coast. There is a choice of western routes and plenty of ski areas on the way.
A journey north reveals green rolling hills, forests and long, empty beaches, with the whale-watching centre of Kaikoura about two hours drive away, whilst an excursion to the south passes through farmland and crosses two more of Canterbury's pristine rivers, ideal for fishing in, white water rafting or kayaking down. Mt Hutt, the premier commercial ski area close to the city, lies to the southwest. A day off-piste here gives opportunity for jet boating, fishing, horse riding or a round of golf.
Clearly visitors are spoilt for choice and residents have a superb outdoor lifestyle at their doorsteps. Check out Christchurch Street Maps to find your way around. Christchurch has a special Sister Cities relationship with six other cities internationally.
Events
Christchurch is New Zealand's foremost festival city. Throughout the year it proudly celebrates over a dozen festivals which provide a wealth of cultural and entertainment diversity.
Festivals with themes of music, the arts, adventure, books, heritage, buskers, balloons, floral displays and local produce all provide a focus for the city's celebrations, whether planned or spontaneous.
Spring brings Showtime Canterbury featuring national racing events and the region's traditional agricultural and pastoral show. Summer heralds the SummerTimes festival with a host of free outdoor events, including the hugely popular Classical Sparks. Late summer and early autumn are the time to celebrate romance, food and drink
And of course, you can't have a summer in Christchurch without the Garden City Festival of Flowers or a winter without enjoying KidsFest and the Winter Carnival. Have a look at Be There, Christchurch's Events and Festivals calendar and see what's on right now.