A very warm welcome to Darwin from HealthStaff Recruitment
Darwin is the bustling tropical capital of the Northern Territory. It is a modern, multicultural city offering visitors not only the uniqueness of a balmy tropical climate, but also a lively cosmopolitan atmosphere. Darwin harbour is double the size of the famous Sydney Harbour and is one of the most unspoiled in Australia, the playground of dolphins, sea snakes, turtles and cruising yachts.
Visitors to Darwin enjoy a relaxed, tropical lifestyle with wonderful sunsets, city streets shaded by palms, bamboo, mango trees and masses of flowering tropical shrubs like the fragrant frangipani and the iridescent blooms of the bougainvillea. There are many beautiful attractions to see including wildlife parks, wetlands, conservation reserves and national parks. There are 190,000 people who live in the Northern Territory and around 38,000 of these are Aboriginal. Darwin is the proud home of an intensely alive indigenous culture. These include Aboriginal languages, art and craft, dances, music and traditions that occur every day and enrich the city.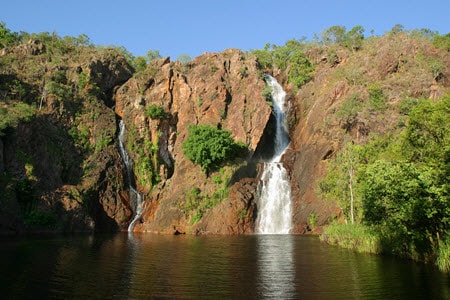 Most of what you'll want in central Darwin is within two or three blocks of the main shopping centre, Smith Street mall. The suburbs spread a good 12 to 15 kms (7 to 9 miles) to the north and east.
Facts at a Glance
Population: approximately 90,000
Country: Australia
Time Zone: GMT/UTC plus 9.5 hours
Telephone Area Code: 08
Climate
Darwin experiences a moderate climate throughout the year. June and July are the coldest months with temperature hovering between 19C and 30C. October and November are the hottest months and temperature range between 25C and 33C. December to March is the time for heavy showers combined with high intensity storms.
May to September, with its mild days and balmy nights, forms the ideal time to visit this city. If street parades are your thing, make your way here in August for the Festival of Darwin and the Beer Can Regatta.
Attractions
Darwin City Centre
Within walking distance around the city are the following features: Government House, Old Admiralty House, Myilly Point Heritage Precinct, Brown's Mart, Old Court House, Victoria Hotel complex and State Square which includes the Supreme Court, Northern Territory Parliament Buildings and the Northern Territory Library. There is a Chinese temple on the corner of Woods and Bennett Streets and Christ Church Cathedral is situated on the Esplanade, which is fronted by the lush green Bicentennial Park. The Stokes Hill Wharf area contains several cafes, restaurants and specialty shops. Cullen Bay also contains cafes with the added bonus of enjoying your food whilst watching the yachts come and go.
Darwin Crocodile Park
The Darwin Crocodile Farm, 40 km (25 miles) south of the city, has around 8000 saltwater and freshwater crocodiles. When a crocodile is taken out of one of the Territory's waterways, this is usually where it ends up. The feeding time is 2 pm weekdays and noon on the weekend and this is an exciting time to visit.
The park is open from 9 am to 4 pm daily. The park is situated on the Stuart Highway, south of the Arnhem Highway turn-off.
Phone: 08 8999 1450
Entry fee is $10 for adults and $5 for children
Kakadu National Park
This is one of Australia's most famous national parks. It contains beautiful landscapes including wetlands, sandstone cliffs, waterfalls, rocky plateaus, flood plains and rivers and lakes. There is an abundance of wildlife native to Australia and also Aboriginal rock-art collections throughout the park. Bowali Visitor Centre is situated on the Kakadu Hwy just south of the Arnhem Highway turn-off.
Phone: 08 8938 1120
Litchfield National Park
This National Park is situated 140 km south of Darwin and is well worth a visit. Within the park there are four waterfalls surrounded by lush rain forests and also a wide sandstone plateau mostly surrounded by cliffs. It is about a two hour drive from Darwin and can be accessed from the Stuart Highway. There are 4WD tracks in the park and plenty of bush walking tracks to wander along at your own pace and enjoy the scenery.
Batchelor Butterfly Farm and Bird Sanctuary
This farm includes large walk-through enclosures with decking to view the colourful butterflies and tropical vegetation. The park is 100 kms southwest of Darwin.
Phone: 08 9876 0199
Open 9:30 am to 4:45 pm daily
Berry Springs Nature Park
This natural freshwater spring, 57 kms south of Darwin and 1 km from the Territory Wildlife Park, is a popular picnic and swimming spot surrounded by a monsoon rain forest. Many small native fish can be seen in the clear pools. Care should be taken during wet season floods when strong currents can occur. The park is located on Stuart Highway and Cox Peninsula Road.
Open daily 8 am – 6:30 pm
Didgeridoo Hut & Emu Farm
Aboriginal-owned and operated this unique attraction, 35 km southeast of Darwin, offers a bush tucker and medicine walk, cultural demonstrations, art and craft displays and has lots of emus on show. There is even a course that teaches you how to make your own didgeridoo. The farm is located on Arnhem Highway.
Phone: 08 8988 4457
Open daily 7 am – 7pm
Mary River National Park
This national park, 150 km east of Darwin, protects part of the Mary River catchment. The river system, with its billabongs and paperbark forests, is a good place for watching wildlife, fishing and bushwalking. Some areas are accessible by ordinary vehicle, but a 4WD vehicle is really needed to explore the park properly. The picnic area, 3 km west of the Bark Hut Inn, has a boat ramp. The park is located on Arnhem Highway.
Phone: 08 8978 8986
Open daily, but check seasonal conditions
Tjuwaliyn (Douglas) Hot Springs
Straddling part of the Douglas River, this 3,107 hectare park, 200 kms south of Darwin, features hot springs, walking trails and a camping ground. Swimming is best 200 metres upstream in the cooler water of the pools.
Entertainment
Shopping
Mindil Beach Sunset Market marks the beginning of Dry Season in Darwin. The market that is held every Thursday is set among a shady canopy of monsoon vine forest trees and a grove of coconut palms. Here you will find food stalls preparing cuisine from over 20 countries, more than 200 local artisans selling a colourful array of goods, imported art and craft from around the world, buskers, tarot readers, masseurs/masseuses and a good variety of local and travelling musicians. In short, a great shopping experience.
Other markets in Darwin are Parap Village Market, Rapid Creek Sunday Markets, and Nightcliff Market. The shopping district (The Mall) is centrally located and surrounded by Knuckey, Smith and Cavenagh Streets.
Where to eat
It is not difficult to understand the variety in the cuisine that the city serves in its restaurants and markets. With a population mix of more than 60 countries, you can be assured that the food from your home country would be served in at some place or other. The popular cuisines are fisherman's soup from Thailand, curries from India, tabouleh from Lebanon, potato cakes and deserts from Slovenia, and last but not the least the authentic Australian cuisine. Smit St. Mall and periodic markets like Mindil Beach Market are the best place to enjoy food in Darwin.
Events
Darwin has community events, sports, arts and events that are just for fun. These provide a wonderful opportunity to mix with the locals and get to know the place. The Shell SuperCar Championships is one of the Territories most popular events. The V8 SuperCars race in Hidden Valley during May is a must for lovers of high powered cars. In June The Greek Glenti is an event that shows off the abundance of Greek culture in Darwin and is packed with yummy food and sensational sounds.
The Darwin Beer Can Regatta features boats built from beer cans. Held in July-August each year this is a real "cultural" event.
The Carlton Darwin Cup extends over a four week period in August, taking in eight marvelous days of horseracing. A featured event of the Carnival is the Carlton Darwin Cup held on the 4th August, a race which attracts participants from throughout Australia.
In July the city hosts the Royal Darwin Show and in August the Festival of Darwin takes place. This is the arts and cultural event of the year and is held in Smith Street.
The Tiwi Islands Football Grand Final is staged in Bathurst and Melville Islands over the weekend closest to March 19. The Corroboree Park Challenge at the Corroboree Park Tavern takes place 89 kms east of Darwin in the second week on April. This is a fantastic finishing competition that concludes with a BBQ on Sunday evening. The biennial Arafura Sports Festival at Marrara Sports Complex takes place throughout May. In June the Barunga Festival (which is Australia's principle Aboriginal festival) is also on near Katherine.