A very warm welcome to Dunedin from HealthStaff Recruitment
Located on the south eastern coast of the South Island of New Zealand, Dunedin is the second largest city in the south and a well-known university town with an envious student life.
Dunedin has a population of approximately 120, 000 and the city has a large Scottish heritage. (Dunedin is Celtic for Edinburgh). In 1848, Scottish migrants established the settlement and thirteen years later, gold was discovered in Central Otago (about 120 kilometres inland) and the small settlement of Dunedin became the centre for the nation's wealth.
Soaring cathedral spires, a magnificent railway station, fine banks and office blocks, New Zealand's only castle and old Victorian university buildings are among the city's architectural treasures. The city is renowned for its proximity to incredible wildlife.
The Otago Peninsula, a brief drive from the city centre, is home to a colony of the world's rarest penguins, the only mainland breeding colony of the royal albatross, rare New Zealand sea lions and the magnificent Larnach Castle. A world of recreational opportunities awaits the active at heart.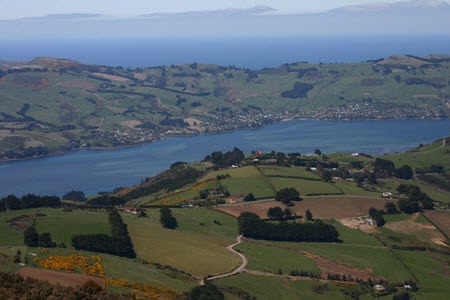 Attractions and Activities
New Zealand Sports Hall of Fame
Relive New Zealand's great sporting moments. Learn about the great New Zealand sports achievers. Housed in the historic Dunedin Railway Station, this is the only one of its kind in New Zealand.
Address: Dunedin Railway Station, Dunedin
Phone: +64 3 477 7775
Website: New Zealand Sports Hall of Fame
Speights Brewery Heritage Tour
Enjoy an interesting 1.5 hour tour of a working brewery and museum, including tastings. Tours daily – bookings essential.
Address: 200 Rattray Street, Dunedin
Phone: +64 3 477 7697
Website: Speights Brewery
The Bard
Haggis Ceremonies
Traditional Scottish Entertainment Tues – Thurs 6.30 pm -(October – March)
Reservations Dunedin Visitor Centre includes Piping in the Haggis, Participate in the famous address to the Haggis, A certificate of attendance, Complimentary Drink followed by a Haggis Tasting.
Address: 48 The Octagon, Dunedin
Phone: +64 3 474 3398 or 474 9674
World's Steepest Street Tourist Shop
Visit the world's steepest street, acknowledged in the Guinness Book of Records, located just 1.3 kms from the Botanic Gardens. Whether you walk, run, drive or just visit, you may buy a certificate at the shop. This is a 'must see' and do for all visitors to Dunedin. At its steepest section the gradient is 1 in 2.86. Every year during Dunedin's Festival, large numbers of athletes, including family groups, take part in the social and competitive foot races to the top of the street and return. These races are known as the 'Baldwin Gutbuster'.
Address: 282 North Road, Dunedin
Phone: +64 3 473 0923
Dunedin Botanic Garden
The garden is open daily from dawn till dusk. Information Centre, shop, conservatory and Alpine House are open daily 10 am to 4 pm. Cafe open 9.30 am to 4 pm daily.
Address: Lovelock Avenue/Opoho Road, Dunedin
Phone: +64 3 471 9275
Website: Dunedin City Council
Visitor Centre
For all Dunedin travel, accommodation and activity bookings, check with the Dunedin Visitor Centre.
Address: 48 The Octagon, Dunedin
Phone: +64 3 474 3300
Website: Dunedin City Council