Forensic mental health nursing is one of the most highly skilled and challenging fields of nursing. The field is growing in Australia and overseas as more nurses seek to pursue this area of expertise. This role has a mystique that makes it compelling and elusive. If you are looking for forensic mental health jobs, HealthStaff Recruitment can help. If you would like to enquire about any employment opportunities in the area of forensic mental health nursing in Sydney please click the 'Apply Now' button below, and submit your details, and we'll get back to you within 24 hours!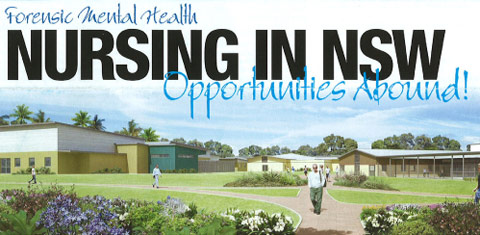 What is Forensic Mental Health?
If you're wondering what forensic mental health means, here's a little explanation that can help. Forensic Mental Health is a specialty area of mental health where a combination of scientific and clinical approaches are applied in a legal context. This legal context consists of criminal, correctional, civil and legislative.
Forensic Mental Health Nurses require highly developed knowledge, skills and attitudes. These can be developed in the workplace with targeted supervision, and intensive workplace training and, can be further enhanced with specialist post-graduate training. It is truly a rewarding job.
Justice Health and The Forensic Hospital Sydney
Forensic Mental Health Nurses in NSW work in a service known as Justice Health, where they provide assessment and treatment for adults, and adolescents with mental illness, who have come into contact with the criminal justice system. Close to 200 mental health nurse's work in justice health, and this number is set to double.
The Forensic Hospital Sydney is a 135 bed, highly secure facility that is in line with international best practices. The forensic hospital provides an intensive inpatient mental health program outside of a prison setting, and provides services to adults and adolescents, male and female.The Forensic Hospital deliver services for forensic patients along the clinical spectrum from high dependency, acute, extended care and rehabilitation. A limited number of beds are available for civilian patients with complex and challenging needs.
Not all nurses want to work in this challenging setting. However, it is a fulfilling and satisfying career, as evidenced by one of the nurses excited to be part of such a profession:
"I love the fact that when I come to work I never know what the day or shift will bring in terms of challenges. I have grown since qualifying as a nurse, and the experiences I have gained in forensic mental health will always be with me".
In the Forensic Hospital, nurses will have the opportunity to implement internationally recognised mental health interventions and comprehensive, evidenced-based risk assessments in a therapeutic environment. The Acute Women's Unit for example provides gender sensitive care for women, by focusing on their individual needs as well as their diagnosis. The knowledge, skills and confidence of nursing staff will ensure relational security is enhanced by contemporary treatment approaches.
The Forensic Hospital occupies spacious grounds. The low-rise buildings create a relaxed feel with walking and cycling tracks throughout the campus. The facilities and grounds have been designed to support diverse clinical needs – from patients who may require short-term care to those who will call this facility home for many years.
Opportunities are available now for experienced mental health nurses interested in becoming part of the Forensic Hospital team. Extensive orientation, training and ongoing support will be provided.
View all Nursing Vacancies in Sydney
Authors:
Natalie Cutler, Nurse Manager Mental Health,
Julia Shaw, Operational Nurse Manager,
Shona MacLeod, Clinical Nurse Consultant,
Adam Wood, Clinical Nurse Specialist.