DESTINATION MELBOURNE, Victoria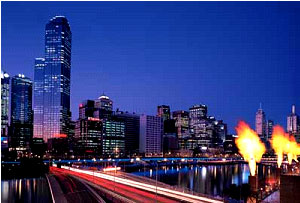 Melbourne, Victoria's capital, is both an exciting and graceful city and awarded as 'the World's Most Liveable City'. With its wide-open parklands and historical buildings, it is often referred to as the arts and culture capital of Australia. Sports, major events, shopping, dining and the arts are some of the unique attractions that keep Melbourne's 3.2 million strong population entertained. Melbourne's history is divided into two main categories. Aboriginal history dates back 40,000 years, with the aboriginal culture being passed down through Dreamtime stories that still exist today and whose remnants can be viewed throughout the city. European settlement of Victoria began in 1834 by the pioneering spirit of the first settlers. They built a rectangular street pattern, one mile long and half a mile wide that created a foundation for the City centre, called 'Melbourne's Golden Mile'. Melbourne is sports-mad; football in winter, cricket in summer. It is also a food and wine city where diners can enjoy a simple pub meal to a gourmet feast with Asian, Mediterranean, Latin, and Arab influences and a definitive Australian flavour.
Attractions
Melbourne Observation Deck
This is a fantastic place to view Melbourne from above. It is located in the tallest office building in the Southern Hemisphere, the Rialto Towers. The deck offers 360 degrees views and a 20 minute 'sight and sound spectacular' of the city and our major attractions.
Open daily from 10 am – 10 pm 7 days a week
Level 55, 525 Collins Street, Melbourne, 3000
Phone 03 9629 8222 Website: www.melbournedeck.com.au
Flinders Street Station
This is the oldest metropolitan station in Australia and a Melbourne landmark. It is also a fantastic place to 'people watch' as more than 260,000 people pass through every day.
Southgate and Southbank
This is an arts, leisure and shopping area with an emphasis on casual dining along the Yarra River bank. You can catch great views of the city skyline, while being entertained by street performers and watching boats cruising the Yarra River.
Federation Square
The size of an entire city block, Federation Square is a living, breathing focus for Melbourne and Victorian community life positioned in the very centre of the city. It brings together a creative mix of attractions, including galleries, cinemas, restaurants, cafes, bars, two dedicated function centres, festivals, events and public open spaces embraced by some of the most stunning architecture in the world. Federation Square- located on the corner of Flinders and Swanston Streets, Melbourne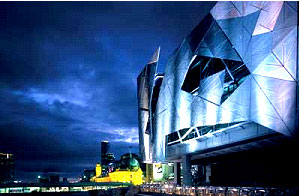 Melbourne Aquarium
This is an amazing way to catch a glimpse of what the Southern Ocean has to offer. The aquarium offers an interactive and involving discovery tour and is located along the Yarra River.
Open daily from 9.30 am – 6 pm, (9 am – 9 pm in January)
Corner Queenswharf Road and King Street, Melbourne, VIC, 3000
Phone: 03 9620 0999 Website: www.melbourneaquarium.com.au
Melbourne Cricket Ground
This is Melbourne's most popular sporting ground. Tours are offered where you can discover the sporting history of Melbourne's "G".
Open daily from 10 am – 3 pm Tours depart on the hour
Phone: 03 9657 8879
Victoria Market
This is Melbourne's largest and most historic market offering more than 1000 stalls of produce and merchandise, including souvenirs. Victoria Market offers a fantastic opportunity to shop with 'Melbournians'.
Open Tues & Thurs 6 am – 2 pm; Friday 6 am – 6 pm; Saturday 6 am – 3 pm; Sunday 9am – 4 pm
Corner Elizabeth Street and Victoria Street, Melbourne, VIC, 3000
Phone: 03 9320 5822
Crown Entertainment Complex
This is a 24-hour complex that features 14 cinemas, 35 restaurants, 17 bars, nightclubs, disco, theatre, exclusive shopping, and the Casino with machines and gaming tables. Crown Casino is located along the Yarra River and offers something for every mood.
Phone: 1800 818 088 Website: www.crowncasino.com.au
Victorian Arts Centre
The Arts Centre is located underneath Melbourne's most familiar landmark, the Arts Centre spire, and is home to Australia's best performing arts companies. Guided tours are available where you can discover the history of the centre.
Tours depart Mon – Sat at 12 noon and 2.30 pm; Sun 12.15 pm
100 St Kilda Road, Melbourne, VIC, 3004
Phone: 03 9281 8000 Website: www.vicartscentre.com.au
Melbourne Zoo
This is an award-winning zoo where you can view more than 350 species of animals. The animals are displayed in naturalistic settings and highlights include the African rainforest area, underwater aeal viewing, butterfly house, and Australian bush area. Open daily from 9 am – 5 pm
Elliott Avenue, Parkville, VIC, 3052
Phone: 03 9285 9300 Website: www.zoo.org.au
Royal Botanic Gardens
These are world-renowned gardens and are Melbourne's pride and joy. The Royal Botanic Gardens offer gorgeous landscapes of plants from around the world including Australian natives. Guided walks can be arranged.
Birdwood Avenue, Sth Yarra, VIC
Phone: 03 9252 2300.
Lygon Street
This is Melbourne's Little Italy. It is a colourful area offering shopping and dining with an Italian flavour. Take Tram no 1 or 22 heading north from Swanston Street. Bus no 200, 201, 203 or 207 from Melbourne Central. Travelling time is about 15 minutes from Melbourne CBD.
St Kilda
This is Melbourne's playground. St Kilda is famous for its magnificent bay views, The Esplanade, and the Sunday Craft Market. You can visit Acland Street, which is famous for its cakes, or Fitzroy Street, which is well known for its cafes, restaurants and bustling activity. You can also walk, roller blade, or bike ride along The Lower Esplanade. To get there, take any Tram with St Kilda Beach displayed or no 96 from Bourke Street, Melbourne. Travelling time is about 25 minutes from Melbourne CBD.
South Yarra and Prahran
Chapel Street and Toorak Road make up the South Yarra shopping strip, offering some of Melbourne's most upmarket designer boutiques. Greville Street and Commercial Road make up the Prahran shopping area that offers retro, funky fashions. To get there, take Tram no 72, 8 or 6 from Swanston Street or board a train on the Sandringham line to South Yarra or Prahran Station from Flinders Street, Melbourne. Travelling time is about 20 minutes from Melbourne's CBD.
Events
Melbourne is always buzzing with activities and events. In January, you can check out the Melbourne Music Festival and in February the Melbourne Food Festival. In March, Melbourne holds the Moomba festivities along the Yarra River. In April, Melbourne is host to the month-long International Comedy Festival held in venues in and around the city. In June and July, you can stay indoors to participate in the Melbourne Film Festival, and avoid the winter chill. In September, the Aussie Rules Football Grand Final is held at the MCG. In October, the Melbourne Writer's Festival is held offering book readings by some of the world's most renowned authors. The Melbourne Fringe Arts Festival is also held in October, kicked off by the wild street party and parade along Brunswick Street, Fitzroy.