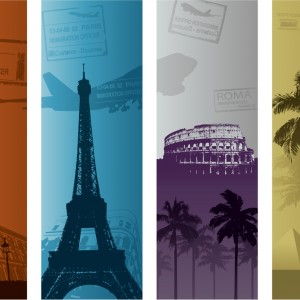 It has to be everyone's dream-come-true – working while you holiday, in a job you love and an exciting country that offers boundless opportunities. Working and travelling Europe is high on the bucket list of many these days, not just the younger ones among us. For older Australians, too, travelling Europe from the UK while you work as a nurse is the culmination of many months (sometimes years) of planning, and you don't want anything to go wrong.
Just what do you need to plan while considering travelling Europe from the UK? As a nurse you're used to immaculate documentation; planning your day is second nature because missed plans could be fatal.
While your working and travelling Europe, holidays might not be quite as dire if you forget a step, it still pays to plan. From the very first step, which should be organising your visa and passport so you can get into the UK, to any additional visas you require for countries you plan on calling into during your travels – planning is vital.
Listing where you plan to travel will mean you make the appropriate plans for those countries. Then you must consider other features such as foreign currency or travellers' cheques, local languages and public transport, even food preferences.
One of the advantages of working and travelling Europe while working as a nurse in the UK is that your home base is doing something familiar and loved. The hospitals you work in will become a place to be grounded, while your "travelling" aspect will fulfil the excitement you crave.
Coming back to work will allow you to rest and recuperate, touch base with those who've fast become good friends and with whom you can relate your travel tales. You can save again for your next sojourn, and all this while you're in a foreign country so it can still retain the 'holiday' feel, if you so want it.
Traveling Europe from the UK is the ideal way to see that part of the world because most places aren't too far from your home base of Britain. A short boat trip, train ride or plane journey and you're in a new country. Sometimes within a few short hours.
By basing yourself in the UK and working as a nurse, you have the best of both worlds. If you need help with your plans, speak to us at HealthStaff Recruitment today. In the meantime, please feel free to refer to our nursing jobs in the UK for your opportunity to travel Europe!