About the Royal Children's Hospital in Brisbane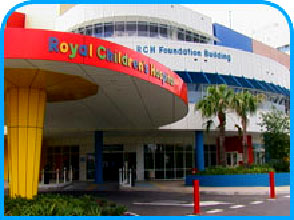 The Royal Children's Hospital (RCH) and Health Service District is located in Brisbane Queensland. The Royal Children's Hospital is the largest specialist children hospital in Queensland, and is also a paediatric teaching hospital. RCH is a 168 bed facility providing health specialities to children, and young individuals aged 0-14 years old. The RCH provides it specialty paediatric services to children in Queensland, New South Wales, Pacific Islands, New Zealand and Japan. RCH's aim is to provide services to the needs of children, young people and their families in a family oriented environment. The RCH is also one of the largest tertiary referral teaching hospitals, and prides itself on educating its staff.
Why should you work at the Royal Children's Hospital?
The Royal Children's Hospital is a very rewarding place to work. RCH is located in Brisbane, which is known for its welcoming and relaxed atmosphere. The people of Brisbane enjoy a fantastic subtropical climate with average daily temperatures between 15 and 25 Degrees Celsius. The weather in Brisbane is mainly beautiful and sunny, with 230 clear days per year! Top that off with an average of 8 hours of sunshine a day, and you're looking at a perfect lifestyle choice! The perfect place to live and work! As a valued employee of the Royal Children's Hospital, you also have access to a fantastic range of extras, which go above and beyond just a normal wage and a great location. Here a just a few of the great benefits the Royal Children's Hospital can offer:
Attractive salary packaging
Innovative leave provisions
Onsite swimming pool
Association with major universities
Access to significant professional development allowances and leave
Access to child care facilities
Significant employer contribution to superannuation
Attractive relocation packages available
Close to cafes and entertainment
Shuttle services from the campus to Brisbane central
Gymnasium
And….. A really fun place to work!
If the Royal Children's Hospital sounds like an opportunity you can't miss out on, then please send us your CV or feel free to check for job vacancies at the Royal Children's Hospital. Learn more about the Royal Children's Hospital by visiting their website.