Charlies Nurses…Passion for Knowledge, Compassion for Life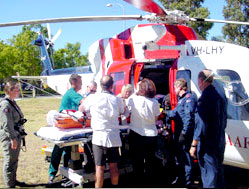 Sir Charles Gairdner Hospital is a fully accredited teaching hospital with a progressive and caring approach to empowerment and education of rses.
Located just minutes from Perth's CBD, near the magnificent Kings Park in Nedlands Western Australia, SCGH is a 28 hectare medical campus which provides a supportive learning environment to nurses at all stages of their professional development. SCGH not only caters to nurses, but also provides extensive post-graduate opportunities in a number of specialist areas.
SCGH provides a full range of services in emergency medicine, cardiovascular medicine, cardiothoracic surgery, trauma, orthopaedics, neurosciences, general surgery, general medicine, urology, renal dialysis, rehabilitation and aged care and psychiatry.
These innovative and dynamic departments provide nurses with unlimited opportunities for professional advancement.
Nursing at Sir Charles Gardiner Hospital
Charles is strongly committed to the continual support of our nursing staff. Nursing at Charles offers a wide variety of opportunities for nurses to begin and further their careers in a range of specialties.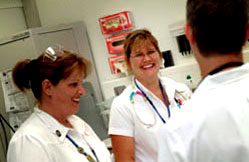 At every level of Sir Charles Gairdner Hospital we encourage leadership and teamwork in tune with nurses and nursing issues. With a strong emphasis on research and the application of quality measures for nursing care, we thrive on input from clinical and academic experts, and encourage nurses to ask questions, influence patient outcomes and enhance their nursing skills in everyday practice.
Since that time, The Alfred has been recognised as a pacesetter in the national medical arena and has consistently been linked to progressive developments in acute care, medical research and health care teaching.
Our Values
Our values emphasise patient focused care, individual accountability, respect, compassion, trust, teamwork and a culture of learning, as we deliver the best possible care to our patients.
Our aim at Charlies is to promote the well-being and interests of our nurses as valued members or our health care teams, and nurture our students and new graduates through dynamic and stimulating programs.

Support for Nurses
Charlies is strongly committed to the continual support of our nursing staff. This is displayed in many ways, most notably by our guarantee that all areas are staffed to the "Nursing Hours Per Patient Day" recommendations.
We also provide strong leadership at ward level through the presence of Clinical Nurse Specialists or Clinical Nurse Managers in all wards and clinical areas. We support the ongoing education and professional development of nurses with staff development nurses in all wards.
Corporate Nursing Services provides ongoing hospital wide support for all nursing staff via:
Centre for Nursing Education
Centre for Nursing Research
Recruitment
Clinical Nurse Consultants
Patient Equipment Store