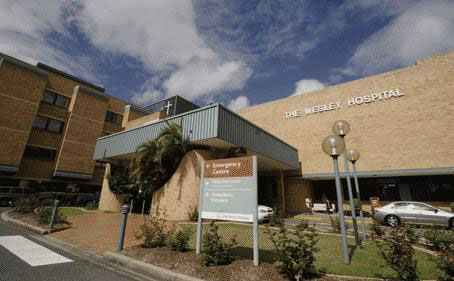 The Wesley Hospital is a private not- for- profit hospital that provides a variety of healthcare services to Brisbane. The Wesley hospital is owned and operated under the Uniting Care Health. As one of the largest private hospitals in Queensland, the Wesley hospital is a 524 bed facility that provides and extensive range of specialist services to patients. The Wesley Hospital was founded in 1977, but its history dates back to 1896. The Wesley hospital also employs over 2000 medical professionals who provide a vast range of specialist services. These services include:
Addiction medicine
Breast and endocrine surgery
Cardiology
Dermatology
Clinical genetics
Bariatric surgery
Cardiothoracic surgery
Clinical immunology and allergy
Endocrinology
Colorectal surgery
Ear nose and throat surgery
General medicine
Infectious disease medicine
Gastroenterology
General surgery
Neurology
Infertility and IVF
Neurosurger
Oncology and haematology
Ophthalmology
Orthopaedics
Oral and maxillofacial surgery
Paediatric Medicine
Paediatric Surgery
Palliative Care Medicine
Plastic and Reconstructive Surgery
Radiation Oncology
Rehabilitation Medicine
Renal Medicine
Respiratory (thoracic) Medicine
Rheumatology
Sleep Medicine
Spinal Surgery
Upper GI Surgery
Urology
Vascular Medicine
Vascular Surgery
The Wesley hospital serves over 75 000 people per year, and has dedicated it's time to providing the highest of quality healthcare services to their patients. With a promise to quality healthcare, and a commitment to excellence in care, the Wesley Hospital was recognised as the first Australian hospital to be awarded the Australian quality award. For more information about the Wesley Hospital please refer to their website here.
Employment Opportunities at The Wesley Hospital
The Wesley Hospital provides various employment opportunities to healthcare professionals in a range of disciplines and specialties. If you are a qualified healthcare professional looking for employment opportunities at The Wesley Hospital, HealthStaff Recruitment might be able to help. If you would like our help in securing a job with the Wesley Hospital please contact us here or send us your CV here.