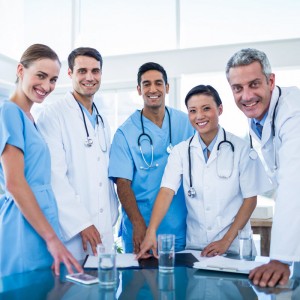 Starting work in Australia as a GP involves a lot of paperwork, including applying for a Medicare Provider Number. You may be wondering what is a Medicare Provider Number? and why do I need one? or you might be wondering how you might go about applying for one. Below, we discuss the application process as well as all of the other information you'll need handy for this process.

We also cover what to do if you're an overseas trained doctor (OTD) as the application process does differ. We are often asked about this process, so we've answered all of your most frequently asked questions.  
Why Do I Need a Medicare Provider Number?
A Medicare Provider Number is a number that you need if you want to access Medicare – that is, if you want to bulk bill your patients (and allow them to claim Medicare rebates for services you provide), make a referral to specialist services for your patients or make a request for pathology or diagnostic imaging, you'll need to apply for a Medicare Provider Number.
Do I Need a Medicare Provider Number as an OTD?
As a GP, you'll need a Medicare Provider Number for every location you deliver services from. The requirement for a Medicare Provider Number was introduced in 1996, with a view to better distributing overseas trained doctors (OTD); an overseas trained doctor needs a Medicare Provider Number to access Medicare, however in order to obtain one they must be practicing in an Area of Workforce Shortage. Put simply, if they wish to access a wider patient base by offering bulk billing, they need to work in an area where doctors are in short supply.
The catch is, as an OTD you cannot obtain a Medicare Provider Number for the first 10 years from the date of your Australian registration. By working in a District of Workforce Shortage, an OTD might be able to bypass this 10-year moratorium.
Who Can Apply for a Medicare Provider Number?
Applying for a Medicare Provider Number doesn't cost anything, and any medical professional can apply (midwife, nurse practitioner, medical practitioner, allied health professional, optometrist, dentist, orthodontist, exercise physiologists, osteopaths, speech pathologists, dietitians and many other categories.).
Where Do I Apply?
They are obtained through Medicare Australia. Each location the OTD wishes to practice at requires a new Medicare Provider Number. The application for a Medicare Provider Number and any supporting documentation must be sent to Medicare before you're going to start work but after you've been offered a position. The OTD cannot start billing until they have been allocated a Medicare Provider Number.
An employer who is sponsoring an OTD obtains a Medicare Provider Number on their behalf, but this can only be done after the doctor has been offered a job, granted a visa, successfully attended a registration interview and paid their fee. There are a number of steps to go through if you're an employer wishing to employ an OTD.
It's a lot of information to take in – should you need further advice, a specialist GP recruitment service is recommended. We can assist you throughout the process should you require it. Feel free to contact us today. In the meantime, please feel free to browse our selection of doctor jobs in Australia.