Medicare in the United States receive over one billion claims per year and Medicare fraud costs taxpayers $60 billion a year. In one of the largest ever health care fraud schemes investigated by the Federal Bureau of Investigation (FBI), 24 people have been charged in the US in relation to a US$1.2 billion scam.The multilayered scam targeted Medicare beneficiaries, mainly senior citizens and disabled people, who were encouraged by television advertisements and offshore call centres to access free orthopaedic braces with the lure that the braces would help alleviate pain and increase mobility.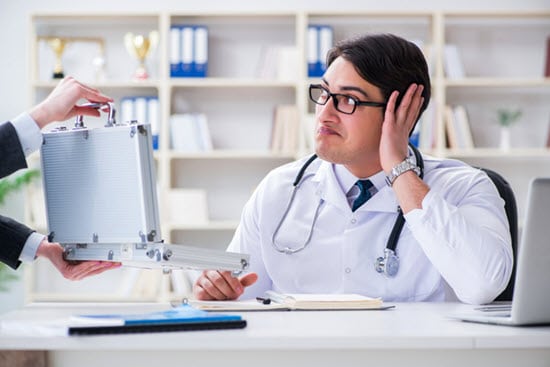 Telemedicine companies were given bribes by the call centres and doctors were paid to write prescriptions for the equipment – typically back, shoulder, wrist and knee braces – which were then charged to the US government's Medicare program.
The doctors involved wrote orders for the medical braces after only a brief phone or video-conference conversation with patients, or sometimes without any interaction at all. The prescriptions were then sold to medical supply companies who shipped the low cost braces to the patients and billed Medicare, receiving US$500 to US$900 per brace and paying out kickbacks of almost US$300 per brace. Among the 24 people charged across several US states, three were licensed medical professionals. Other people charged included owners of medical equipment companies.
The braces scam is believed to have been operating for around five years. After multiple complaints from senior citizens to a fraud hotline, the US Medicare Fraud Strike Force began investigating, culminating in a multi-agency operation involving the FBI, the Department of Health and Human Services, the Internal Revenue Services (IRS), and 17 US attorney's offices which issued 80 search warrants. The investigation was named Operation Brace Yourself.
Medicare Fraud in Australia
Earlier this year in Australia, a Queensland doctor was accused of defrauding the country's Medicare system to the amount of $370,000 through more than 4000 false claims. Some of the patients that the doctor claimed to have treated were in fact deceased, while other treatment was found to have been billed for on dates when the doctor was overseas. In Australia the rules for billing under Medicare are set out in legislation and incorrectly claimed Medicare benefits are considered a debt owing to the Australian Government. False Medicare claims may also be referred for criminal prosecution. The doctor involved in the above case has been arrested and charged.
Statistics from 2014 show that the Department of Human Services receives over 1,000 tip-offs to its fraud hotline each year with the majority of Medicare fraud generating from outside of medical practices, often through identity theft and fake Medicare cards.