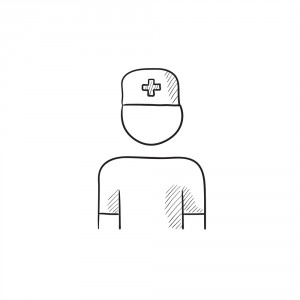 The main difference between a Registered Nurse and a Nurse Practitioner is the qualification. A Registered Nurse is someone who has graduated from a nursing program and met the criteria for registration according to the country they work in. In Australia, a Bachelor of Nursing is the minimum education requirement.
A Nurse Practitioner (NP) is a Registered Nurse (RN) who has acquired additional knowledge, skills and competencies for expanded practice and are therefore working at an advanced level. The specific characteristics of a Nurse Practitioner are determined by the country the NP works in but typically NPs will have a Master's degree.
In order to undertake a Master of Nursing (Nurse Practitioner) in Australia, five years' experience as a Registered Nurse which includes a minimum of three years of clinical practice in a selected specialisation is a pre-requisite.
Another difference between RN and NP is where they work and the type of work they do. RNs assist physicians to provide care to individuals and groups in hospitals, clinics, pharmacies, community centres and other medical facilities. In Australia the majority of Nurse Practitioners are employed in acute care settings but NPs can be found in many specialty areas. Nurse Practitioners may also be self-employed in their own practice.
RN duties and tasks involve administering medication, answering patient questions, and advising patients on post-treatment care. NPs also spend the majority of their time on direct patient care and some of their activities overlap with the role of registered nurses such as administering medication and interacting with patients and their families. However activities such as undertaking physical assessments, performing diagnosis interventions, initiating transfers or discharges, and history taking are often performed in greater depth by NPs. Unlike Registered Nurses, Nurse Practitioners are able to prescribe medication and request diagnostic investigations.
Working hours are also a factor. RNs are typically required to work rotating shifts whereas Nurse Practitioners can sometimes be found working more traditional 9-5 hours, however they may be required to do shift work including weekends and public holidays, and on-call.
So in summary, the difference between a Registered Nurse and a Nurse Practitioner is that NPs are capable of working autonomously, without direct supervision. In terms of clinical practice, the difference between RN and NP is that Nurse Practitioners can order investigations as part of care planning and initiate or cease medications. If you or someone you know is looking for their next career opportunity, feel free to browse our selection of nursing jobs in Australia.