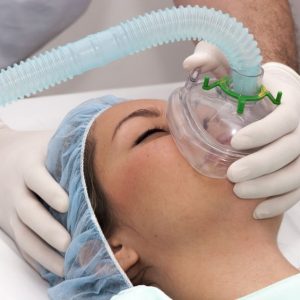 Anaesthetics is a vital part of care for patients requiring surgery and other procedures, and for critically ill patients.
Each day in Australia around 17,000 patients will receive some form of anaesthetic. There is no safer place to be anaesthetised because Australia and New Zealand have the highest standards in the world.
A day working in anaesthesia typically begins with pre-operative assessments. This usually involves meeting with the patient to assess them and answer any questions they or their family members may have.
Once the theatre has been set-up and the anaesthetic machine checked, the theatre list can commence. During procedures the anaesthetist is responsible for measuring and monitoring heart rate, blood pressure and oxygen saturation. At the end of the operation, the anaesthetist is responsible for overseeing the recovery of patients.
Apart from scheduled lists, those working in anaesthesia are often on call and work with trauma teams, as well as emergency lists and in ICU for patients who require a medically induced state of unconsciousness.
The majority of intensivists are anaesthetists because of their specialised knowledge of ventilators and pharmacology.
Where do Anaesthetists Usually Work?
The work environment is typically in a hospital, public or private, however on occasion an anaesthetist may be part of an onsite trauma team or care for a patient during transport.
Anaesthetists are also involved in acute pain services which are accessible through most public hospitals in Australia.
Anaesthetists are involved in different types of theatre lists including orthopaedic, vascular, gynaecological, dental and general.
Why work as an Anaesthetist in Australia?
Health professionals currently working in anaesthesia jobs in Australia state they enjoy the varied work. They also enjoy challenging procedures and the ability to immediately see the effects of intervention. Some state being part of a team is the most rewarding aspect, working alongside doctors, nurses and technicians.
Working Hours of an Anaesthetist in Australia
Average hours worked in anaesthesia jobs are 44 hours per week and most anaesthetists are involved in after-hours work, however they have greater opportunity than most specialists to arrange to work flexible hours or part-time.
What's the Average Salary of an Anaesthetist in Australia?
The average annual salary for anaesthesia jobs in Australia are $140,000-$180,000 depending on the employing organisation, location and experience of the anaesthetist. Anaesthetists have a vast choice in the type of work they do and where. Around a third work in private settings, a third in public and a third in a mixture of the two.
What Makes a Good Anaesthetist?
Administration of anaesthetic drugs requires precision and accuracy. If you are able to:
Think quickly and methodically under pressure
Have a good understanding of physiology and pharmacology
Are a team player
Good hand-eye coordination with a good eye for detail
An anaesthesia job could be the right fit for you. To specialise in anaesthetics, doctors can apply to the Australian and New Zealand College of Anaesthetists (ANZCA) to undertake further training and ultimately receive fellowship.
Anaesthetists are on the new Medium and Long-Term Strategic Skills List. If you are interested in an anaesthesia job in Australia or New Zealand, please browse our medical vacancies today.